Index
Index Copernicus (IC) is an online database of user-contributed information, including scientist profiles, as well as of scientific institutions, publications and projects established in 1999 in Poland. The database has several productivity assessment tools which allow to track the impact of scientific works and publications, individual scientists, or research institutions. In addition to the productivity aspects, the Index Copernicus also offers the traditional abstracting and indexing of scientific publications.
ProQuest connects people with vetted, reliable information. Key to serious research, the company has forged a 70-year reputation as a gateway to the world's knowledge – from dissertations to governmental and cultural archives to news, in all its forms. Its role is essential to libraries and other organizations whose missions depend on the delivery of complete, trustworthy information.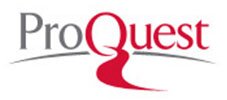 International Journal of Arts and Commerce is listed in Ulrich's Journal Database(Global Serial Directory). A unique, current, comprehensive, and continuously updated source of information.

The Elektronische Zeitschriftenbibliothek EZB (Electronic Journals Library) offers an effective use of both scientific and academic journals publishing full text articles in the internet.
This service has been developed at the Universitätsbibliothek Regensburg (University Library of Regensburg) in cooperation with the Universitätsbibliothek der Technischen Universität München (University Library of the Technical University of Munich).